OUR WHY
We created this foundation to build a legacy in Graham's name that will have an impact for years to come. His life may have been cut short, but his tiny footprints can still make a mark in this in this world.
OUR PURPOSE
To share our story with others facing the same loss and share information about resources and support groups that educate, help ease the pain and help families who are just starting this journey.
OUR MISSION
To join together to support bereaved families in our community and unite with other parents and families to honor the precious babies that have died due to stillbirth or any infant loss.
In the Spring of 2016, my husband and I were thrilled to learn we were expecting a baby boy. Already parents to 2 young daughters, we were overjoyed at the reality that they would soon have a little brother.
This was not our first rodeo, and there was nothing abnormal to report in comparison to our other pregnancies. Our unborn son was passing all the early testing and scans just like a thriving and healthy baby should.
Around 17 weeks, my husband and I finally decided to share the news that we were expecting our third child. We had picked a name for our precious boy- Graham John Cowan. I was well into the 2nd trimester, and was cruising through the pregnancy counting down the days until we got to meet our son.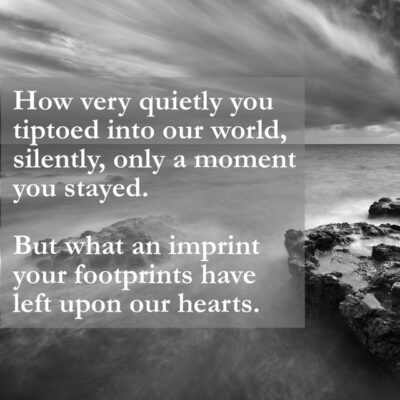 On September 26, 2016, my husband and I went for a routine 21-week scan and checkup. Our ultrasound tech knew our family well as she was the tech for our other 2 children. During my scan, I noticed that nothing was moving on the screen. No one said anything. She just continued to move the doppler around, but our baby boy looked lifeless. I could tell by the look on her face something was wrong. The heart monitor that always blared very loud beats was silent.
Finally, after what felt like an eternity but was probably 1 minute, my husband said, "I do not hear a heartbeat."

Our familiar ultrasound tech welled up with tears and said, "I am so sorry."
NUMB. BROKEN. EMPTY. STUNNED.
If I could explain in words how it felt to hear our baby boy was gone, that would be a start. To say we were in disbelief is an understatement. In that moment, it would become the day where we changed FOREVER, and the day our life became divided into two parts- before we lost Graham and after we lost Graham.
How was I going to tell my young daughters that their baby brother wasn't coming home?
My cherished Orlando Health GYOB, Dr. Nicholas Abrudescu was the next face I saw. He explained I would be admitted to Orlando Health Winnie Palmer and would be given Pitocin to induce labor, and then essentially just wait. We waited for almost 24 hours, but the next day, at the same hospital where I'd given birth to our 2 daughters, I delivered my stillborn baby boy.
Graham John Cowan was born into Heaven at 4:52 PM on September 27, 2016, at 21 weeks old at Winnie Palmer Hospital for Women and Babies in Orlando, Florida.
NOTHING LIKE I HAD EVER FELT BEFORE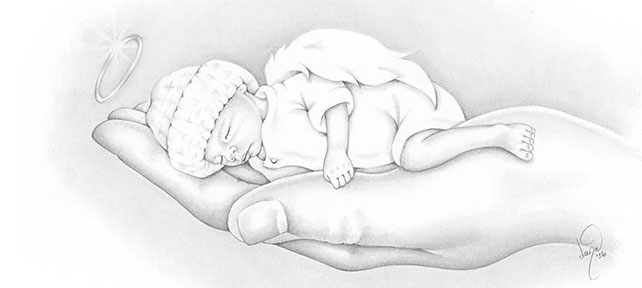 For me personally, the agony and heartache of delivering my son knowing he was not alive was nothing I had ever felt before. As a mother, I kept asking myself, how would I EVER recover from something this traumatic? I knew I would never, ever be the same person again.
When the nurses brought Graham back to me, I just stared at him in disbelief, realizing (and also began the process of accepting) that he was really gone. Every fiber in my being knew that I would spend the rest of my life protecting his memory.
Because of his life, the Graham J Cowan Foundation was born.
"When a child is born, it's a mother's instinct to protect the child. When a child dies, it's the mother's natural instinct to protect their memory."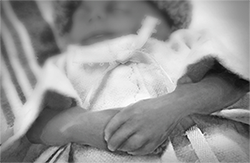 We were fortunate enough to know what happened to Graham. Some parents never get an answer, so for this, I am grateful. My heart hurts for the families that never know why. As Dr. Abrudescu had assumed, they confirmed that he had died from a nuchal cord accident in utero, and the umbilical cord was around his neck and arm, restricting his blood flow in his major blood vessels. Unbeknownst to us, this is common and occurs in about 15 to 35 percent of pregnancies. As the baby's gestational age increases, so does the likelihood of a nuchal cord. As if I could not accept that as an answer, we had the placenta sent to pathology for further testing, which generated no other health issues.
On October 4, 2016, we buried our sweet boy and had a beautiful funeral service for him with immediate family. I find peace when I go visit him there. Our family is blessed to have his resting place to visit, talk to him, and bring his siblings and little brother. My daughters lovingly say, "We are going to Graham's house." My children know and understand they have a brother in heaven. They talk about him. They include him in drawings in the sky, and they wish he didn't die. But they understand he did. Every day since then, we have become actively involved in organizations that I never even knew existed. Our family became a member of "the club" that no one wants to join, the club we were lucky to know nothing about until all of a sudden, we knew everything about it. We found an entire community of families just like ours who were trying to navigate their way through insufferable pain and loss. We will forever be thankful to these communities for helping us out of the trenches during the darkest time of our lives.
2016 may seem like a long time ago, and a lot has changed since then. We are not in the trenches of darkness anymore. We have learned how to cope. The pain will always be there because there is a part of us that died that day. I personally can't talk about that day to anyone in person without tearing up. My heart still aches when I relive that day. When I finally processed all of the stages of grief, in no order and no time frame- I knew I wanted to fight for the memory of our Graham. I am his Mama, and that is my job. The natural vision was to start finding ways to honor his memory. So, it began with planting a tree in his memory, a park bench with his name on it, a mass intention in his name, releasing butterflies at his grave on his angelversary, several Remembrance walks, and a brick stone in a memorial garden at our church. These were all things that we did and continue to do to honor his memory. One of my bigger goals was to eventually host an annual 5K in his memory, benefitting Orlando Health Winnie Palmer Hospital for Women & Babies to support more research. Graham's death will not be in vain. We will protect his memory and will continue sharing our story with other families trying to find their way back. He was born silent. Perfect and beautiful. Graham is STILL loved, STILL missed, STILL remembered. Everyday. Stillborn. But, Still Born.
Not everyone will try again after a loss. It is unbearable to think about going through that pain again. Once you know it can happen and does happen to you, your mindset is changed forever. I have a new set of anxieties that I never had before, and they are a part of me now. In our personal experience, we did decide to allow our faith to be bigger than our fear. After our loss, we tried again and were blessed to have our rainbow baby, another son, Grayson. It was not a carefree pregnancy. I was a nervous wreck and could not wait to get to the finish line. But man, I am sure glad we did. I try not to let my mind wonder, "what if we didn't?" No family's journey is the same, but every journey is through all of our stories in one way or another. Nobody gets us like we get us. This is a club that none of us wanted to be in, but here we are, and WE ARE HERE.
No family's journey is the same, but every journey is through all of our stories in one way or another.
Nobody gets us like we get us. This is a club that none of us wanted to be in, but here we are, and we are here.